SURGICAL SUITES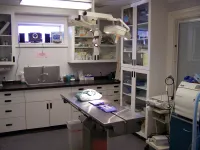 Cooper Veterinary Hospital has two state of the art Surgical Suites capable of taking care of even the most challenging cases. Although a sterile environment for pet surgical procedures is not as critical as human patients, Cooper Vet promotes sterility and cleanliness in all situations, especially our surgical area. By taking a little extra precaution, we minimize the risk of infection which increases both recovery time for our patients and reduced costs for the hospital.

With our brand new PM 9000 VET monitor, we can monitor your pet's vital statistics such as Heart Rate, Blood Pressure, Temperature, and Respiration during surgery to ensure our patient is doing well. The monitor also records ECG (also known as EKG) information in real-time so any heart irregularities can be identified and treated without delay.
Prior to the surgical process, your pet is sedated in very much the same way we are when being prepped for surgery. An intravenous catheter (IV) is placed in a front leg to administer any medications necessary during the surgery or post-surgical treatment. A small portion of blood is withdrawn so pre-surgical lab work can be done to test for any problems that may complicate surgery or increase the recovery time following surgery. Pre-surgical lab work is elective but is recommended as a precaution for our pets. A sedative is then introduced through the IV to put the patient in a very relaxed state. The surgical site is prepped by shaving and scrubbing the area thoroughly to reduce the possibility of bacteria entering the surgical site. Anesthesia is given to the patient through a specialized mask that fits over the mouth and nose and the patient goes into a deep sleep. Once asleep, a breathing tube is inserted which helps to maintain the correct mixture of anesthesia and oxygen during surgery. Throughout the surgical procedure, an assistant continuously monitors all information about the patient while the doctor performs the surgery.
After surgery, the assistant keeps a close watch on your pet to ensure the post-surgical stress is minimized. Generally, a few hours after the surgical procedure is complete, the patient is up and ready for action. Unlike their human companions, our pets need to be encouraged to stay calm after surgery to ensure a speedy recovery. We keep most surgical patients overnight to help them remain calm and make sure there are no complications before they begin their recovery at home.
Regardless if your pet is here for a routine spay/neuter or a more extensive bone-plate surgery, our surgery suites and staff are always prepared to provide the best possible care to your companion.