RADIOGRAPHY
Cooper Veterinary Hospital is proud to be the only hospital in the Ouachita Parish area to use a fully integrated digital x-ray machine.
Typical x-ray machines are similar to a film-style camera. A "picture" of the patient is taken on a film which will hopefully give a clear view of the problem area. The film is then chemically developed to produce the x-ray we are used to seeing. Once the film is developed and dry, the doctor will put the plate on a backlit surface to see if the correct 'picture' has been taken. Due to the fact that the film needs to be developed, the doctor tends to take several different x-rays of the patient while they are in the x-ray room to ensure at least one x-ray has a good view. This usually means several of the x-rays are unnecessary and is also expensive for the clinic. This cost is passed on to the customer.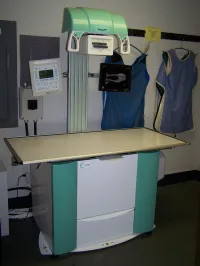 Some hospitals take the typical x-ray and then scan it into a computer. This creates a digital picture of the x-ray that can be displayed on a computer screen.
With our Fovea Digital Radiography System, our doctors and staff can take an x-ray and have the results on a computer monitor directly in front of them within seconds. Another workstation just a few feet away, gives the doctor a vast array of tools to view the x-ray to determine if the best view is captured. If the doctor is not happy with the view, adjustments can be made while the patient is still on the x-ray table and another 'picture' taken immediately. This reduces the stress on the patient and gets the doctors the results they need quicker. Plus, since the x-ray is digital, the doctor can use the computer to rotate the picture; zoom in on the area in question; and even put the x-rays onto a CD for you to take home with you for future reference.
Several minutes may not sound like a long time to wait for a the typical x-ray to be developed, but a few minutes may be the difference between life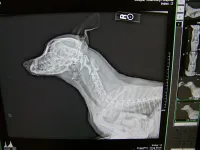 and death of a critically injured pet. Combine that with the unparalleled clarity of the digital radiography system and you can be assured your pet will be taken care of quickly and accurately.
For large animals such as equine, bovine, and deer that cannot be brought into the x-ray room, we use a portable film-based x-ray unit. We also use this unit as a back-up in the case of power or equipment failure.